NEW BEDFORD, Massachusetts (AP) — One early morning this week in ocean waters off the coasts of Rhode Island and New York, signs of the nascent wind industry were all around. Giant upright steel tubes poked from the water, waiting for ships to hoist up turbines that will make electricity driven by wind.
A battleship-gray vessel was on the prowl. In this ramp-up for U.S. offshore wind, American marine companies and mariners fear they'll be left behind.
So Aaron Smith, president of the Offshore Marine Service Association, was looking through binoculars to see whether ships servicing the new wind farms were using foreign-flagged vessels instead of U.S.-made ships with American crews.
"It really makes me upset when I think about the men and women I know who can do this work. American citizens, fully capable, sitting at home while foreign nationals go to work in U.S. waters," Smith said. "It's unfair."
The ship is named the Jones Act Enforcer, after the century-old law that says the transport of merchandise between U.S. points is reserved for U.S.-built, owned and documented vessels. The motto: "We'll be watching." Smith was documenting operations to show to federal law enforcement officials and members of Congress.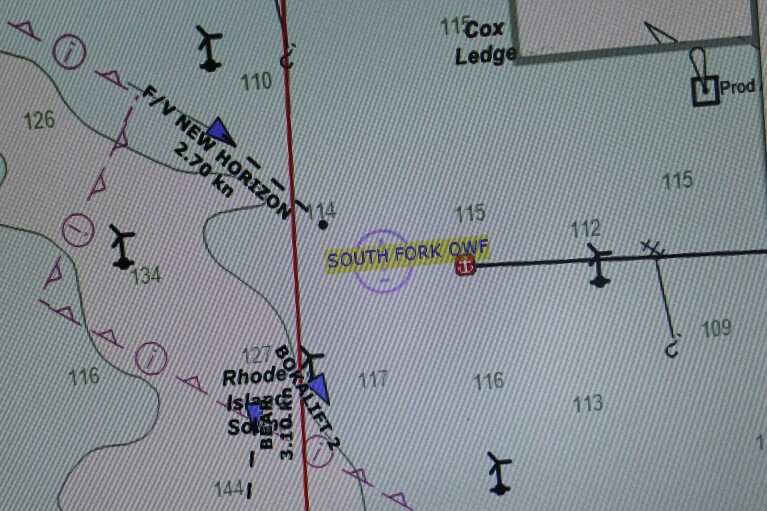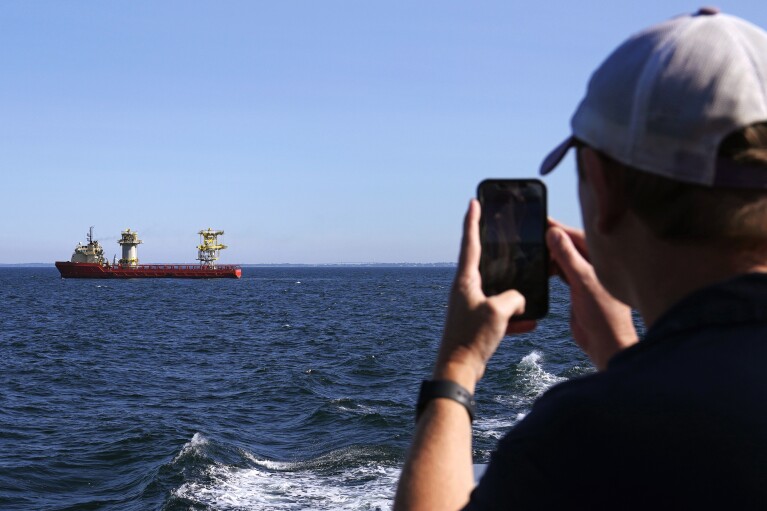 The Offshore Marine Service Association says it strongly supports the offshore wind industry. Many of its member companies are already working in it. Smith said this effort is about securing their future — decades of jobs and investments. The U.S. could need roughly 2,000 of the most powerful turbines to meet its goals to ramp up offshore wind to dramatically cut its use of fossil fuels to protect the atmosphere and reduce climate change.
The Enforcer made several trips to where Danish energy company Ørsted is developing the South Fork Wind project with the utility Eversource. This will likely be the first U.S. commercial-scale wind farm to open.
Approaching the site Tuesday, Smith saw a large crane ship sailing under the Cyprus flag, smaller Belgian-flagged vessels, and U.S. fishing and offshore supply vessels near the turbine bases. The Associated Press was the only media outlet aboard.
The U.S. fleet doesn't yet have massive ships specialized for offshore wind to install foundations and turbines. But some of the foreign-flagged vessels working in wind development areas along the East Coast are tugs and smaller supply ships. U.S. ship operators told the AP they have similar vessels that can do this work.
Ørsted responded that 75% of the vessels supporting South Fork Wind's offshore construction are U.S.-flagged, including barges, tugs, crew transport vessels and fishing vessels that monitor for safety and marine mammals. But the larger U.S.-flagged offshore wind vessels aren't built yet. Even so, the installation vessels for South Fork Wind have American union workers on board, the company told the AP.
"While the U.S. industry continues to mature, we're designing our projects to tap as many American workers, contractors, suppliers and vessels as possible. We're proud that South Fork Wind is putting hundreds of American mariners and union workers to work at sea in a wide range of roles," Bryan Stockton, head of regulatory affairs for Ørsted, said in a statement Thursday.
Ørsted's offshore work is complying with Jones Act provisions, Stockton added.
On this day, Smith said he could see no clear violations of the Jones Act, no "smoking gun." In order to make a Jones Act case to Customs and Border Protection, the association would need to see several stages of activity, observing a ship for weeks if not months. It would need to show loading merchandise onto a ship in port, transporting it to an offshore site and returning empty.
In the past, the association has also checked oil and gas sites for foreign vessels. It first chartered the Enforcer from Harvey Gulf International Marine in late 2021.
Both wind and oil and gas companies can seek waivers to the Jones Act, citing national defense and unavailability of U.S. vessels, or get a ruling from Customs that a specific transaction is permitted using a foreign vessel.
But Smith said he feels that offshore wind developers are violating the spirit of the act. He said he worries investors won't finance the building of offshore ships if they're going to compete against foreign vessels with cheaper day rates, largely because foreign crews can be paid less. That would create a cycle where developers keep using foreign vessels because no U.S. vessels are available.
The association wants to break that cycle as the industry takes off, Smith said. Federal officials expect to review at least 16 construction and operations plans for commercial, offshore wind energy facilities by 2025.
"That's a ton of work we could be doing," Smith said, "and a ton of good-paying jobs."
Randy Adams owns Sea Support Ventures in Cut Off, Louisiana. His vessels do geological surveys for oil and gas. He wants to do the same for the clean energy transition, but hasn't yet.
"I'm just concerned that our industry is going to miss the boat on the wind farm work," he said. "I can't say we're being shut out of it, but we're sure not on the top of the totem pole."
As for the Jones Act Enforcer, Smith plans to keep it berthed at the port of New Bedford, Massachusetts into August, visiting the two commercial-scale wind farm sites. Ørsted is installing 12 turbines. The other developer, Vineyard Wind, is building a 62-turbine wind farm 15 miles (24 kilometers) off the Massachusetts coast.
Vineyard Wind said in a statement Thursday that its project complies with all U.S. laws, including the Jones Act, and it fully supports the American maritime and shipbuilding industry.
Before arriving in Massachusetts, the Enforcer was off the coast of Virginia where Dominion Energy plans an offshore wind farm. Smith was seeing if foreign vessels were surveying the area for unexploded ordnance, and he said they were, despite at least four of his member companies bidding on the job.
Dominion told the AP those vessels are not transporting merchandise between U.S. points, so they're compliant. The company said U.S. vessels got the work surveying, scouting, hauling equipment and transporting technicians.
In Texas, Dominion is also currently building the Charybdis, the first Jones Act-compliant offshore wind-installation vessel and says it strongly supports the Act. Ørsted will charter that ship.
Ørsted is also investing in the Eco Edison, the first American-made offshore wind service operations vessel, now under construction in Louisiana, and in five more crew transfer vessels being built in Rhode Island.
Sam Giberga is executive vice president and general counsel at Hornbeck Offshore Services in Covington, Louisiana. Its supply vessels and multi-purpose support ships are primarily used by the oil and gas industry in the Gulf of Mexico. He said at first they were excited by the promise of offshore wind because it's clean energy that will create jobs and business. But for him, it's starting to feel like a broken promise. The company recently lost a bid to a foreign vessel.
"We are a maritime nation. Always have been. This is the next great maritime frontier and we're not going to get to do it," Giberga asked. "Why would we allow that?" ___
Associated Press climate and environmental coverage receives support from several private foundations. See more about AP's climate initiative here. The AP is solely responsible for all content.