FORT ST. JOHN, British Columbia (AP) — When James Bergen steps from a plane and plummets toward fire below, he's not scared. Instead, he says, he gets a rush from not knowing exactly what he'll face when he parachutes in as one of the smokejumpers confronting the wildfires that have scorched Canada this spring and summer.
One call may mean a drop and a hike to a meadow to put out a single burning tree. "Next day you go to a fire and it's a giant roaring beast threatening a community," said Bergen, a solidly built 46-year-old with graying stubble. "That anticipation of what you're going to get, an unknown every time you get on the plane — that to me is still the excitement."
As more than 900 fires burn in a Canadian fire season that has periodically pushed dangerous smoke south into the U.S. and even far east to Europe, only one province — British Columbia — relies on smokejumpers to help fight the blazes. Its history dates back to 1998.
Experts say Canadian consumers aren't yet feeling the impact of the weekold port strike in British Columbia, but businesses are beginning to be pinched by the shutdown of docks that handle 25% of the country's foreign trade.
Canadian police say a bus carrying seniors to a casino that collided with a semi-trailer truck that killed 15 people did not have the right of way.
Canada's provinces organize their own fire resources, and others may choose to use helicopters to get firefighters to remote areas, or aircraft to fly people and equipment to bases. British Columbia does that too. But Bergen, whose primary job is serving as wildfire officer for the Fort St. John Fire Zone, pointed to British Columbia's size, large population and huge timber industry as reasons it maintains a smokejumper program that takes significant money and expertise — but can get to fires faster.
"It's not something you can quickly stand up," Bergen said.
Bergen said this wildfire year is the busiest he can remember since 2016.
WHERE SMOKEJUMPERS ARE USED
When fires are remote or there's a need to move resources from one location to another very quickly, that can be a time to send in smokejumpers, who bail out of planes at 1,500 feet (458 meters) to 3,000 feet (914 meters).
"It's just one of the fastest, quickest delivery methods … to take action on a fire that by other means may not be possible," Bergen said. "The big value to smokejumping is speed, range and payload."
Though helicopters are sometimes used to get firefighters into tough-to-reach areas, they don't parachute in like smokejumpers — the copters land and unload them quickly, or they jump to the ground as the craft hovers. And the copters can't carry nearly as many people or get to a fire as fast as fixed-wing aircraft.
The modified DC-3 that's one of the planes used at Bergen's Fort St. John base carries up to 13 smokejumpers plus two spotters.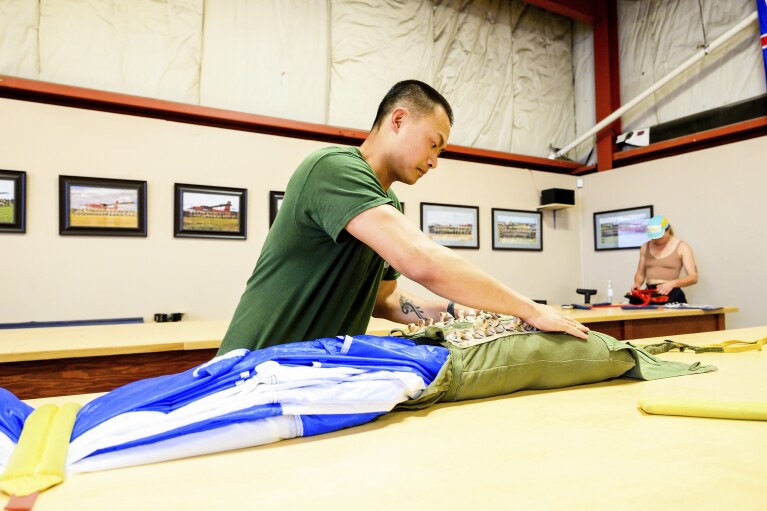 THE GEAR THEY CARRY (AND WEAR)
Outfitting a single jumper can run about $12,000, Bergen said, with equipment that protects the firefighters from being speared by tree limbs, allows them to rappel down if they get hung up in a tree, and floats them if they wind up in a lake or river. Ballistic Kevlar suits protect against sharp objects as well as against intense fire heat; helmets have mesh face shields.
Many smokejumpers wear additional armor — hockey pads or motocross gear — for further protection. The whole package, including the parachute, weighs 70 to 90 pounds.
The plane also carries fire suppression equipment the firefighters will need: four chain saws, hand tools for everyone, four heavy pumps, 6,000 feet (1,829 meters) of hose and enough water for everyone for 48 hours, Bergen said. All that gets dropped separately.
After arriving at a fire and evaluating what they see, the firefighters work out a plan to tackle it. Then it's time to jump.
"It could be three or four, one crew, or it could be the entire bus — all 13 jumpers on the fire," Bergen said.
WHO WANTS TO BE A SMOKEJUMPER
The jumpers are experienced wildland firefighters — at least two years, and more typically six to seven years of experience before they become smokejumpers, Bergen said.
But it takes more than experience. Not everyone wants to jump out of planes, Bergen said. "They're generally people that are quite passionate about wildland firefighting," he said. "It is a very specific person that wants to do that."
He said the ranks include people who are gung ho and supremely fit, but also more ordinary people. He said many wildland firefighters are people who started to make summer money while in college, but then fell in love with the work and eventually decided to be smokejumpers. The lure, he said, is being part of a team "focused on becoming the best you can, in smoke jumping as well as fire suppression."
The province has 67 smokejumpers. About 120 jumpers are working in the region right now, with the balance made up of American firefighters sent over by the U.S. Forest Service and the Bureau of Land Management.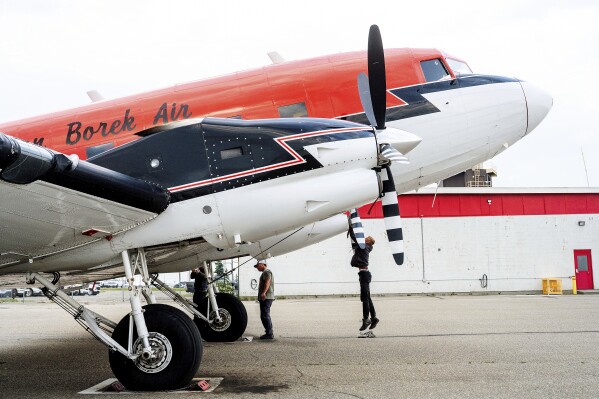 THE GUY WITH 100 JUMPS
Dan Frittenburg, one of the North Peace Smokejumpers at the Fort St. John base, started fighting fires in 2005 and became a jumper in 2008.
Earlier this summer he set a Canadian record with his 100th jump, he and Bergen said.
"I've kind of always been a thrill seeker," said Frittenburg, 41. "But the reason why I do it (is) my love for the outdoors, working with the people that this program draws, and also just challenging myself. I find it's definitely a job that keeps you young."
Frittenburg said it took him a while to learn the intricacies of jumping, and has become more comfortable doing it as years pass.
"But that feeling (nerves) never kind of leaves the pit of your stomach," he said. "I find that a good thing because it keeps you on your game. Once you're comfortable, you'll get shown very quickly that mistakes can be made."
___
Glass reported from Minneapolis.
___
Associated Press climate and environmental coverage receives support from several private foundations. See more about AP's climate initiative here. The AP is solely responsible for all content.