KANDAHAR, Afghanistan (AP) — The Taliban view their rule of Afghanistan as open-ended, drawing legitimacy from Islamic law and facing no significant threat, their chief spokesman said in an interview marking the second anniversary of the Taliban takeover of the country. He also indicated a ban on female education will remain in place.
Zabihullah Mujahid brushed aside any questions from The Associated Press about restrictions on girls and women, saying the status quo will remain. The ban on girls attending school beyond sixth grade was the first of what became a flurry of restrictions that now keep Afghan women from classrooms, most jobs and much of public life.
The Taliban seized power on Aug. 15, 2021, as U.S. and NATO forces withdrew from the country after two decades of war. To mark the anniversary, Tuesday was declared a public holiday. Women, largely barred from public life, didn't take part in the festivities.
In the southern city of Kandahar, the spiritual birthplace of the Taliban, military personnel posed with armored vehicles. Young men rode through the city on bicycles, motorcycles and cars, waving flags and brandishing weapons. Toddlers clutched small white Taliban flags bearing a photo of Defense Minister Maulvi Mohammad Yaqoob on the bottom right corner.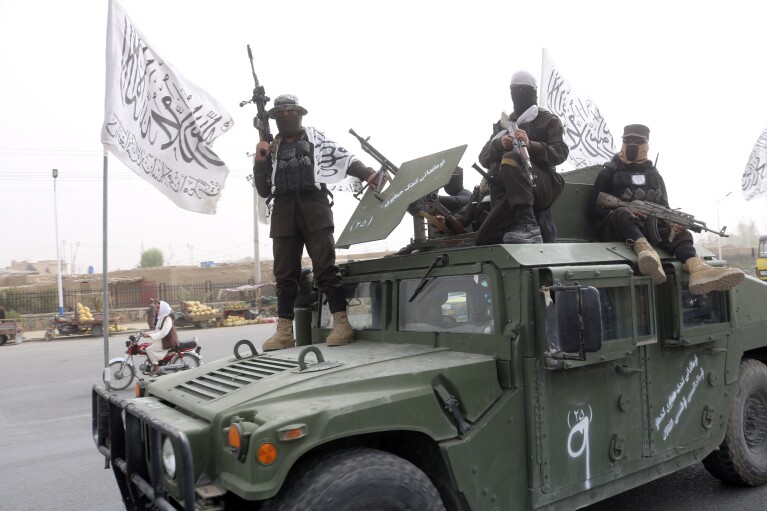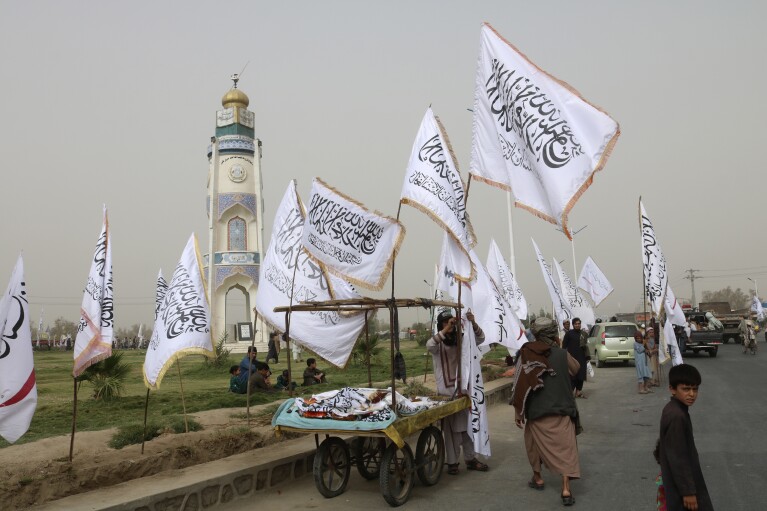 In the capital, Kabul, pick-up trucks crammed with men and boys wound their way through the city. Men swarmed Martyrs Square, taking selfies and clambering onto a monument. Boys posed with rifles.
Over the past two years, it has become increasingly apparent that the seat of power is in Kandahar, the home of supreme leader Hibatullah Akhundzada, rather than the Taliban-led government in Kabul.
The interview with Mujahid took place late Monday in a TV studio on a rundown former military compound in Kandahar. The U.N. Mission in Afghanistan and local government departments are located nearby.
The Taliban spokesman arrived in a white SUV, accompanied by a guard and a driver. He spoke calmly and politely, falling back on Taliban talking points on issues like women's rights and international recognition.
"There is no fixed term for the Islamic government," he said of Taliban rule, which he claimed draws legitimacy from Islamic law, or Sharia. "It will serve for as long as it can and as long as the emir (the supreme leader) isn't removed for doing something that goes against Sharia."
Taking stock after two years, Mujahid said Taliban rule faces no threats from inside or outside the country. He claimed the current government is acting responsibly, and that Afghans crave consensus and unity. "There is no need for anyone to rebel," Mujahid said.
In a statement Tuesday, the Taliban government listed what it considered its accomplishments, including restoring a sense of personal safety and national pride.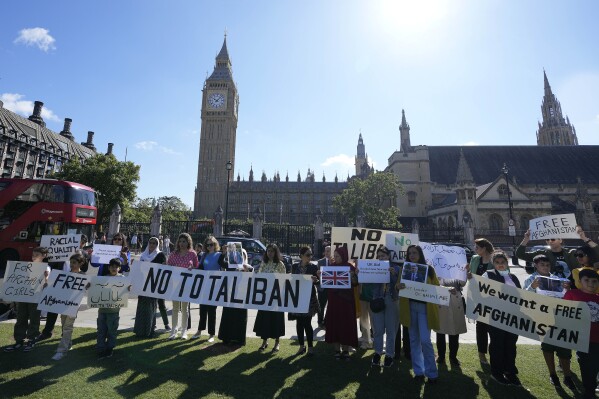 The statement made no mention of the tens of thousands of Afghans who fled in the aftermath of the takeover or the severe economic downturn and deepening poverty as international aid dried up. At the same time, the Taliban appear to have settled in, avoiding internal divisions and even keeping their struggling economy afloat, in part by holding investment talks with capital-rich regional countries.
Mujahid was reluctant to discuss the restrictions on girls and women, brushing aside questions about the issue as repetitive and saying there was no point talking about it unless there were updates. He did suggest change was unlikely.
In conversations with foreign diplomats and aid officials, the Taliban typically avoid saying they oppose female education on principle, arguing instead that they need more resources and time to allow for gender segregation in classrooms and university campuses, in line with their interpretation of Sharia.
Mujahid presented this argument in the interview, noting that "everything will be under the influence of Sharia."
Asked why the Taliban aren't enlisting Muslim-majority countries with Sharia-based systems to restart female education, he said the Taliban don't need the help of others.
Akhundzada, the supreme leader, is seen as the leading force behind the classroom ban which was issued unexpectedly in March 2022, just as Kabul-based government ministers said they were preparing to allow girls from seventh grade and up to return to school.
Mujahid said there was disagreement among religious scholars on female education, and suggested that maintaining harmony among them was more important than getting girls and women back into classrooms.
Speaking to reporters in Washington, Secretary of State Antony Blinken insisted the path to a more normal relationship between the Taliban and other countries will be blocked "unless and until" the rights of women and girls were supported.
The prospect of international isolation and the lack of recognition as Afghanistan's legitimate government because of restrictions on women and girls isn't a pressing concern for the Taliban leadership, Mujahid said.
"Our interaction with China, Russia, Tajikistan, Uzbekistan, Turkmenistan, Iran, Pakistan and other countries in the region is official," he said. "We have embassies, travel, consulates. We have businesses. Traders come and go and transfer goods. These are all the things that mean the recognition of officialdom."
Aid agencies, rights groups and the U.N. this week issued statements condemning the Taliban's rule and warning of the humanitarian crisis gripping the Afghan population.
World Vision said the number of people in need of assistance has increased by around 5 million. It said 15 million people will face "crisis" levels of food insecurity this year, with 2.8 million in the "emergency" category, the fourth highest in the world.
An alliance of rights groups, including Amnesty International, said the Taliban should be pressured to end violations and repression and should be investigated for alleged crimes under international law, including gender persecution against women and girls.
In Geneva, the World Health Organization expressed concern about Afghans' lack of access to basic health services. Spokeswoman Dr. Margaret Harris said 20% of the population suffer from mental health problems and 4 million from drug addiction and associated disorders.
"Most health facilities have poor infrastructure, and there are fewer qualified health care workers due to immigration, limits on women's movement and employment, and reduced funds to pay salaries and keep facilities open," Harris said.
—-
Associated Press writers Matt Lee in Washington and Jamey Keaten in Geneva contributed to this report.